Biography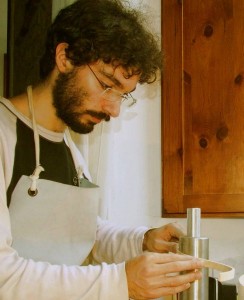 The first violin maker workshop of the Madonie is going to born, at the hands of Mirco Inguaggiato, a young man who has three generations of carpenters behind him.
Born and raised in Petralia Sottana, his passion for music and woodworking starts when he was a child. After years of making remarkable handmade products, Mirco decides to connect his passions into one art form.
So he begins to build as self-taught and with good workmanship his first musical instruments belonging to the Sicilian musical tradition (in particular, wind instruments like "piffere", "zampogne", "flauti di canna"). He studies in great detail the existing musical instruments.
The desire to build his own stringed instrument drives him to attend, in 2009, the Gubbio's Lutists and Bow-makers School, founded in 1978 by the Master Guerriero Spataffi.
He obtains the diploma in the 2011 under the direction of Master Ildebrando Minelli (for the construction of bow and plucked instruments) and the bow-maker Enrico D'Argenio (for the construction of bows). At the same time, Mirco attends his studies under the guidance of Master Winfried Mayer.
Mirco Inguagggiato's instruments are totally handmade with fine, naturally seasoned woods of prime quality. In his workshop, instruments are also restored, to bring them back to their former glory and to their old sound.
Actually Mirco Inguaggiato lives and works in Petralia Sottana.